Coronavirus Updates for Bradford
Latest Restrictions for the Bradford area – This is the most up to date guidance for the Bradford District as published on Friday 31st July.
A fuller explanation of the local restrictions can be found here
Where can I get a Covid-19 Test in Bradford?
There is currently a mix of ways and locations you can get tested if you live in Bradford. There are mobile units that may be in your area as well as the fixed drive-through and walk-in centres. If you can not get to any of these places and need a test you can also order a test through the post.
Find how and where to get a test here
Sew and Save Lives in Bradford
We are proud to be part of the campaign to make and donate face coverings to vulnerable people and communities in Bradford and are acting as one of the drop off points for face coverings made by volunteers.
If you have the time and skills to sew, or are willing to learn, then you can get involved in making face coverings and helping fight the Covid-19 virus. This information pack gives you all the details you need including, what you will need to make a face covering, the pattern you need to make it, and where you can drop off the finished product.
The three drop off points are City Hall in Bradford, HALE in Shipley and Action Point in Keighley.
Share your makes and keep up to date with the hashtags #SewAndSaveLives #MakeItDonate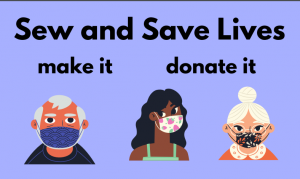 Bradford's new walk-in COVID-19 testing centre opens on Wednesday 1st July 2020:
Where will the site be located?
The testing site is located outside City Hall in Centenary Square
When can I get a test?
A mix of walk-in and pre-booked tests will be available this week from 2pm-5pm on Wednesday (July 1) and 10am-5pm on Thursday. From this Friday, it will become fully operational from 8am-8pm seven-days-a-week.
For those booking tests, this can be done by either calling 119 or online at www.nhs.uk/coronavirus.
Who can have a test?
Tests at the new community testing centre can be performed if:
• You have symptoms of COVID-19
• You can travel to the test site on foot or by motorcycle or bicycle but you must NOT use public transport
• You have a face covering
• You adhere to social distancing at all times, when travelling to and from the site
What are the symptoms of COVID-19?
Most people with COVID-19 will have at least one of these symptoms:
• A high temperature
• Or a new cough
• Or a change in sense of taste or smell
If you have any of these symptoms, you should have a test.
What do I need to bring to the test with me?
You must bring a valid form of ID, proof of your appointment confirmation if pre-booked and a face covering.
If you do not have a valid form of ID or access to a mobile phone or have an email account, please discuss this with the team.
Can I bring my family members with me?
Only those being tested should be at the test site. If you can't leave your family at home, they may come with you but must wear a face covering. However, children under the age of three will not be permitted as it would be unsafe for them to wear a face covering.
What do I do while I'm waiting for my appointment or my test results?
While you are waiting for your appointment or your test result, you and everyone in your household must stay at home to prevent the spread of the infection.

When will I get my results?
Test results will not be held by the council. The testing site will send you your test results by email and text message within 24 – 72 hours of completing the test. If you don't have an email address or a phone number, you can contact 119 for your results.
Further information:
Watch this helpful video for a step-by-step guide on what to expect when visiting a local testing site:

For more information about COVID-19, visit this link: https://www.bradford.gov.uk/health/health-advice-and-support/coronavirus-covid-19-advice/
HALE
1 Westgate
Shipley
West Yorkshire
BD18 3QX