CLICS
Working in partnership with the CCG, and funded through the Reducing Inequalities Funding for the central Bradford Locality area (PCN4,5,6)., CLICS is a new model intrinsically linked with Social Prescribing (PCN4,5,6).
Community Connectors work closely with GPs, Advanced Practitioners and practice based staff in the Central Locality to support individuals to link into community based assets such as groups, services and centres.
This service is delivered in partnership with the CCG and other voluntary organisations, namely The VCS Alliance, The Girlington Centre, The Thornbury Centre and Trident. Many central locality practices are supported under this new service, please contact us if you require further details.
At HALE we have an excellent track record of positive client feedback. This is once again evidenced in our second 2018/2019 evaluation where 96% of clients were 'satisfied with the support received' and 97% agreed that the Community Connector 'support received was tailored to their needs'.
Case Study 1
60 yr old who female, lives on her own. Husband has passed away 5 years ago. No family in Bradford. Regular attending GP practice. Complaining of headaches and leg pain. We monitored her bloods and BP. Life style advice give. Made some changes in her medication. Majority of health issues resolved. Also patient was referred to the CC as she needed help with shopping and her energy bills. Food parcels were arranged for her and Green doctors helped her to switch her energy provider to reduce her energy bills. She was given the number of a local corner shop who can deliver her shopping. Patient was very happy with the service and this has reduced the number of calls to the GP practice.
Case Study 2
65 yr old female who lives on her own. Had issues with housing, health anxiety and MH. In close collaboration with Hale we have successfully managed to rehouse her to a bungalow. She is very happy and grateful in her new home. She was anxious and worried about suffering from a serious disease. She was referred to hospital and was seen at a very short notice. We have given her telephone numbers and links to professionals whom she can speak to when she is low in mood.
She has restored contact with her family and feels so much better in herself. Great team work between ANP and CC!
This e-mail is intended for the use of the addressee only and may contain confidential information, copyright material or views/opinions that do not necessarily reflect those of the Clinical Commissioning Group. If you receive this email by mistake please advise the sender immediately. All should be aware that this email may be subject to public disclosure under the Freedom of Information Act 2000 and that emails may be monitored
Throughout the pandemic our service has adapted to ensure support was provided to meet our client's needs. We spoke with our service users about food supplies, and medication needs, we explored support networks and enquired as to how people were managing/coping.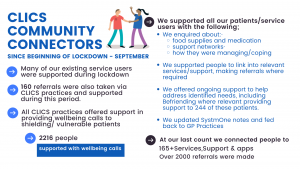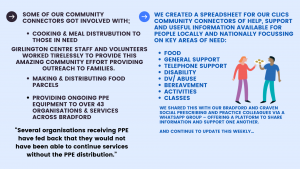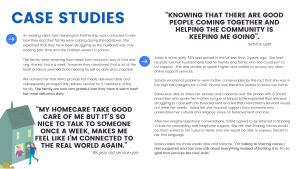 HALE
1 Westgate
Shipley
West Yorkshire
BD18 3QX