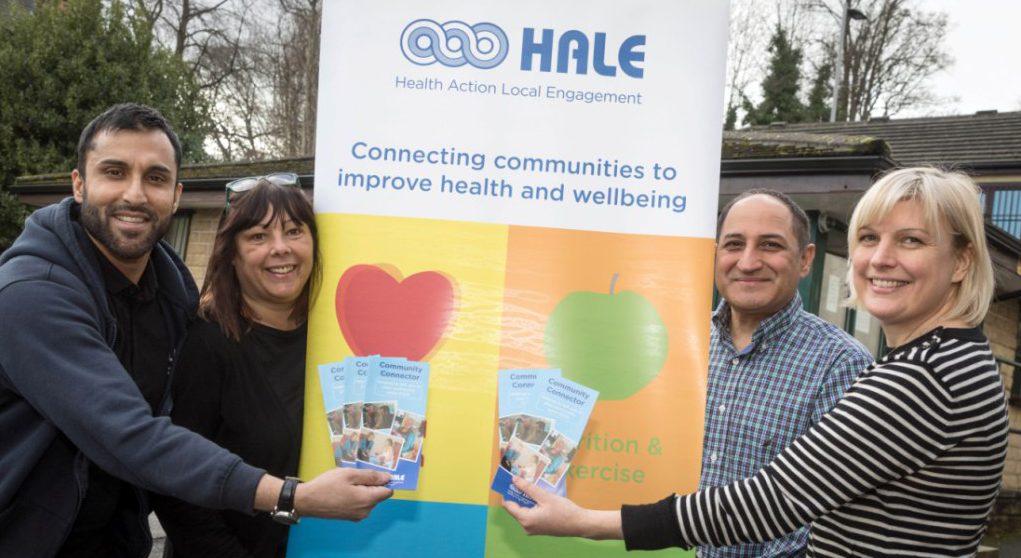 Social Prescribing
What is Social Prescribing?
Social prescribing involves empowering individuals to improve their health and wellbeing and social welfare by connecting people to non-medical and community support services.
As an original pioneer of the social prescribing model in Bradford, HALE now have almost 15 years experience of delivering Social Prescribing by a dedicated, city wide team of Community Connectors
We have excellent tract record of positive client feedback.  A recent report from Sheffield Hallam University demostrates this in the satisfaction sccores relating to service users experience.  97% were 'satisfied with the support received',  99% would recommend to family and friends' and 98% agreed that the Community Connector 'support received was tailored to their needs'
HALE is working in partnership with Bradford and District CCG's and other voluntary sector organisations to provide Community Connector support in all GP practices in the Bradford district.
What are Community Connectors
HALE Community Connectors work with adults who may need some support and encouragement to access community activities.
Many of the people we work with would like to make new friends or find out about local activities.  They may be facing issues that have affected their confidence.  We meet many types of people such as those who have suffered loss, have recently had a baby, are struggling with a medical condition or have moved to a new neighbourhood.
We often work with people who want to meet new people and get suppport for all kinds of issues.  We can help them take the first steps and find the right places to go.
Community Connectors – how does it work?
A HALE Community Connector will arrange to meet you at home or another convenient location to talk about what kind of suppport would be helpful.
The Community Connector will find out about social activities that would interest you, and go with you until you feel confident enough to attend on your own.
The Community Connector will be able to meet with you up to 6 times.  This is a personalised service.  We work with the needs and pace of each individual.
This service is free.
How will I be referred to a Community Connector?
Your GP and other staff at your medical practice can refer you to the community Connector Service.
They might provide you with some basic information about the service, but once we receive your referral, one of our Community Connectors will be in touch with you within 2 weeks to introduce themselves and arrange a first meeting.
Please click below to read some of the case studies and see the real difference HALE's Community Connectors have made to people's lives
You can read the impact and the difference HALE's Community Connectors have made in other case studies
HALE Community Connectors Video – how we have helped
If you would like to know more please contact us.    Download the Community Connector Leaflet.
The Community Connector leaflet is available in other languages;   please click to download the leaflet
Click here to read our newsletters;
HALE
1 Westgate
Shipley
West Yorkshire
BD18 3QX