HALE & Coronavirus Updates
Following the most recent government announcements we have had to make the difficult decision to suspend all our face-to-face support and activities until further notice.
As much as possible, HALE are continuing to provide support by phone.
If you require support during this time please contact us on 01274 271088 or info@halephttps://haleproject.org.uk/wp-admin/edit.php?post_type=pageroject.org.uk Our staff or on hand to help.
We are keeping this page updated with the latest information and advice for Bradford residents. Please also follow us on Twitter @HALEProject or Facebook @HALEproject.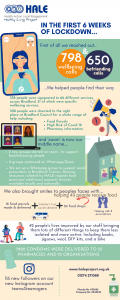 Who We Are
HALE (Health Action Local Engagement) is an established healthy living charity based in Bradford since 2003. We work with people of all ages; providing a wide range of innovative services to directly tackle the causes of health issues experienced by the local community. HALE's focus is on the most vulnerable members of society that feel isolated and lonely; those that struggle with mental health or self confidence issues or are exposed to dangerous or exploitative situations.
Our Work
The key focus of all our work is to work with communities so that isolation is reduced and healthy living is increased by offering health advice in a language and format that people understand, by going and being in their community through home visits, door knocking and letting people know about services that they can access.
We are passionate about utilising local resources that will benefit our local community and so will work in partnership with other organisations to improve regeneration and enterprise initiatives.
HALE
1 Westgate
Shipley
West Yorkshire
BD18 3QX